We provide essential support to the men of South Florence Baptist Church in a spirit of love. Together we learn who we are in Christ, and we learn about the power of prayer, how to deal with everyday situations and problems, and the call to witness to others about the Good News of Jesus Christ.
We have quarterly meetings, special events, and semi-annual studies designed just for men.
(Fifth Sunday of each month at 8:00am in our Fellowship Hall)
The Ironmen Breakfast is designed for the men of SFBC to grow in fellowship
and love for God, and one another.
Spring & Fall Men's Study:
(Six week study on Tuesday evenings at 6:30pm)
These studies are designed for all men to come together in study and fellowship.
(Six week study on Sunday evenings at 5:00pm)
These studies are designed to encourage men during certain obstacles
This day is designed to have the men of SFBC lead the
Sunday Morning Worship
in song and testimony
It may be a conference or a prayer retreat.
Saturday and Sunday is dedicated to honor and remember fatherhood.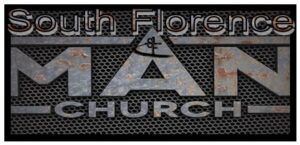 Man Church
Men are invited to sign up to attend Man Church on Monday, Aug. 23rd. Doors open at 6:15pm with manly games like target shooting, archery, cornhole, and golf at 6:30pm. Man Worship begins at 7:15pm with singing, testimonies, and preaching. A Manly Meal or steak, potatoes, and green beans will be served at 7:45pm. The cost is $10 per member, with guests of members getting in free. Sign up on the Connection Board or click the link below.
https://onrealm.org/SouthFlorenceBa/PublicRegistrations/Event?linkString=ZTZlYWJhMjAtYzRhMi00ZTU1LWJiMzQtYWQ3MTAxM2QyZGQ4