"For no one can lay a foundation other than that
which is laid, which is Jesus Christ."
1 Corinthians 3:11
Here at SFBC, it is our goal to make our kidz a priority. Our heart is to ultimately see these children be saved and grow their relationship in Christ,
but we also want them to understand
how important that relationship is. It is our mission
help them build a foundation in Christ so that they can use that knowledge as a tool throughout their entire life! In order to teach them, we show them how to get in the Word and spend time with Christ,
help lead them in true worship, teach them how to use
what they learn as a guide in their life,
and help them understand the importance of
sharing what they learn with others.
We hope to see you and your kidz Here at SFBC!!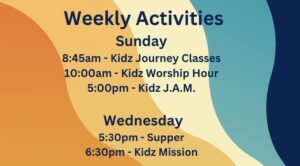 Every child is required to be checked in
for safety reasons. We have a station set up with a
helper
posted just past the double
doors for all parents
and guardians to stop by
and check in your children and send them off to join in on the fun!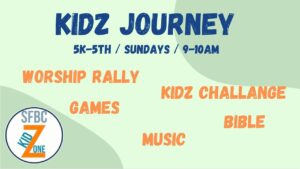 Kidz Journey:
While adults participate in their Life Journey classes, we offer Kidz Journey for all children in SFBC Kidz between 8:45-9:45. Wee Kidz (0-2) meet in the Nursery, Pre Kidz (3-4) meet in the Big Kidz room, SF Kidz (5k-5th) meet upstairs in the Worship Center before they split off into their designated classrooms.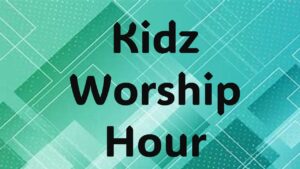 Kidz Worship:
While adults participate in morning Worship, SFBC Kidz will be having a worship session of their own between 10:00-11:30. Wee Kidz (0-2) meet in the nursery, Pre Kidz (3-4) meet in the toddler room, SF Kidz (5k-5th) meet upstairs in the Worship Center.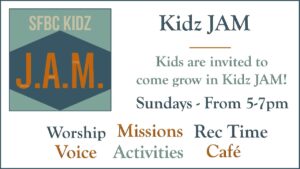 Kidz J.A.M.:
While adults are involved in worship and Life University, SFBC Kidz will be having fun and learning about Missions, the Gospel, learning songs for Kidz Voice, and a few other activities we have going on. Kidz J.A.M. is a two hour session so we pack it full of Christ centered fun and activities for the kids!!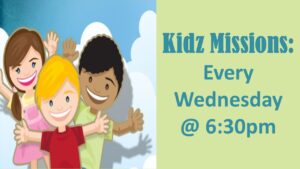 Kidz Missions:
O

n Wednesdays at 6:30pm, our Pre Kidz (2-4yrs) enjoy their time in Mission friends while our 5k-5th graders spend time learning about missions happening all across the world and even get to go out and sdo missions locally in our community.
After your children are checked in, you will be directed on what room to take them to.
If they are in SF Kidz (5k-5th) then they will be upstairs and a leader
will escort them up to the KidZone Worship Center.
To pick up your children, you can head back to the check in table and a KidZone Leader
will call down your children. If your children are in Wee Kidz or Pre Kidz then
you will be able to pick them up from their room.