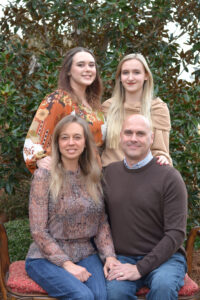 Rev. Jim E. Grigg
Pastor Jim Grigg is the Senior Pastor at South Florence Baptist Church. He is grateful every day that God allowed him to be married to Jennifer, who makes his life complete. Jim is a graduate of West Lenoir Seminary and Andersonville Baptist Seminary. Jim is the proud father of two children, Kaylee and Krislyn, who keeps his heart in his stomach most days. Jim enjoys good friends, good food, and serving a great church family. He counts serving as a part of an incredible ministry team as one of his greatest blessings. He loves sports, cleaning, organizing, and vacations with his family. There is nothing he loves more than preparing and preaching the Word of God.
Jim has been a part of the South Florence Family since October of 2017.
Pastor J.B. Bowen
J.B. is our Family Life Pastor at SFBC. He is over our Student Life ministry and he works with our Kidz Director to oversee our kidZone ministry. J.B. also has a hand in many different ministries here at SFBC along with being a support system for our Senior Pastor. J.B. and his wife Kelsey have served together in ministry for many years and have grown up heavily involved in different aspects of ministry. J.B. is the son of Rev. Keith Bowen who is the Pastor at Christ Community Church. His wife is the daughter of Rev. Adrian Allen who is the Pastor at Lamar First Baptist. Because of their backgrounds, they are able to be teammates and they have been able to grow together in their ministries. J.B. has a heart to see students come to know Jesus, be saved, and live a life pleasing to Christ. J.B. and his wife Kelsey would love to welcome you and your kids here at South Florence Baptist Church!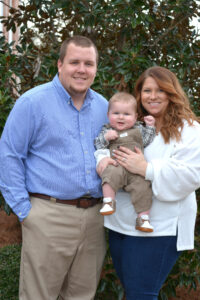 Ministry Assistant /

SFBC Kidz Director

–
Hanna Elmore
Hanna Elmore is our Ministry Assistant here at SFBC. She is heavily involved in the workings of our church in order to help things run as smooth as possible. She assists both of our pastors in communications at church, along with managing tasks related to office management. She is also our Children's Director which includes birth – 5th grade. She makes it her mission to work together with families to help kidz build that foundation that will greatly influence the decisions they make for the rest of their lives. Hanna is married to Hunter Elmore and they have a sweet baby boy named Howard Bradley (H.B.). Hunter and Hanna met in church and now they are raising their son in church to instill in him that same foundation. Hanna and her family would love to welcome you and your kidz to SFBC!
Worship Leader– Brittney Wilson
Daycare Director

– Amanda Echols
Amanda Echols is over our Daycare Ministry here at South Florence Baptist Daycare. She has been our Daycare Director for 18 years. She enjoys meeting new and returning families to the daycare.
She is hardworking and passionate about her work and has a heart for helping. She is so happy that God has lead her down this path to minister to children. She is a very open and honest person who doesn't believe in misleading others and tries to be fair in everything she does. Her #1 priority in daycare is reassuring parents that they don't have to worry about their child/children while they are away, because they are in good hands. Amanda is married to Marshall Echols, and they have two beautiful children and a granddaughter. Amanda enjoys cooking and spending family time with her family. Amanda would love to welcome you and your family to South Florence Baptist Daycare.