There are over 7,600,000,000 people on this planet.
There are over 328,000,000 people in America.
There are over 5,000,000 people in South Carolina.
We can reach our friends, family, and neighbors for Christ by starting with just ONE.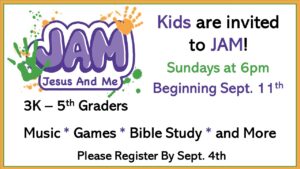 KidsTown JAM
Children in 3K—5th grade are invited to join Mrs. Kelly and friends on Sunday nights from 6-7pm as we grow in our relationship with Jesus through music, games, Bible study and more. A nursery will be provided for children 2 and under. This 8-week ministry will kick-off on Sept. 11th, right after Family Worship. The cost, which includes curriculum and a t-shirt, is $20 for your first child and dramatically discounted for additional children. A JAM Registration Form can be found at the Connection Desk.
We'll be having an Adult Fellowship Night on the evening of

Oct. 2nd following worship. Adults will fellowship in groups according to their age range: The Young Adults 20-39, The Prime Timers 40-54, and the Senior Adults 55+. See the sign up sheets for details on the plans for your group. Please sign up so the leaders can prepare accordingly.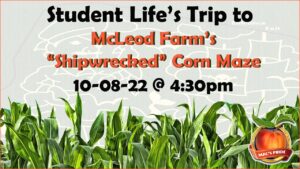 Student Life Corn Maze Trip
Students are invited to an evening of fun at McLeod Farm's "Shipwrecked" Corn Maze on Oct. 8th at 4:30pm. See the sign-up sheet for all details.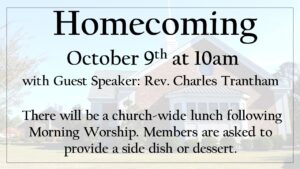 Homecoming 2022
Homecoming will be Sunday, Oct. 9th. Rev. Charles Trantham will be back as our guest speaker that morning. We will have a church-wide luncheon following Morning Worship and will not be having activities or worship later that evening. Members are asked to please sign up and provide a side dish or dessert to share.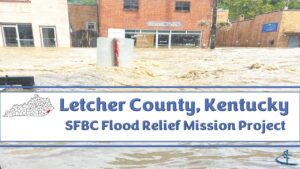 SFBC's Kentucky Flood Relief Mission Project
East Kentucky was devastated by record rainfall July 25th—30th of this year. Dozens of people lost their lives and more than 1,650 homes were destroyed or majorly damaged when the North Fork of the Kentucky River flooded. Some families are doing the best they can to recover, residing in campers and tents.
Our SFBC Mission Team has been led to help our neighbors in KY. We will be taking up donations of needed items through Oct. 10th. These items will be presented to around 52 families in one area of Letcher County. A team of our members plans to hand deliver laundry baskets filled with the items to each family. We plan to head to KY on Friday, Oct. 21st and return on Monday, Oct. 24th. Some of these details are still being worked out due to the destruction that remains around that area. If you would like to go on this journey with us, please let Stephanie Stokes know by Oct. 9th.
We plan to present each family we help with a case of water and a laundry basket or plastic tote containing the following NEW items:
4 bath towels
4 washcloths
4 bars of soap
4 toothbrushes
3 tubes of toothpaste
2 shampoo & conditioners
4 blankets (throw sized)
1 jug of laundry detergent
1 box of trash bags
1 bottle of hand sanitizer
1 4pk of toilet paper
1 box of plastic forks (50ct)
1 box of plastic spoons (50ct)
Paper (50ct) or reusable plastic plates (4)
Plastic cups (50ct) or reusable plastic cups (4)
The estimated cost of each filled basket is around $120, depending on the brands chosen. Any donations of items, monetary gifts of any amount, or completed baskets will be greatly appreciated. Please turn items in by Oct. 10th so that we can put these blessings together.
Thank you for continually showing love to those in need!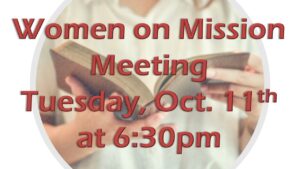 WMU Meeting
Our October WMU Meeting will be Oct. 11th at 6:30pm in the Fellowship Hall.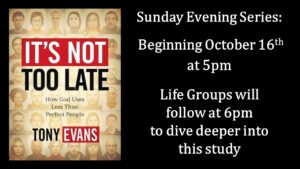 Life Ministries
Life Groups will begin on Oct. 16th and run through Nov. 27th. Pastor Jim will be leading us through "It's Not Too Late" by Dr. Tony Evans during Evening Worship, with Life Groups following at 6pm to dive deeper into the study. Some groups will be meeting here on Sunday evenings and some will meet during the week. A list of available Life Groups with their meeting times will be posted next week so that you can sign up.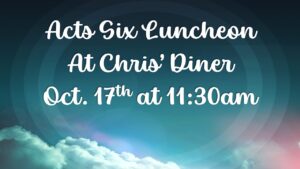 Acts Six Fellowship
We'll have our October Acts Six Fellowship on Monday, Oct. 17th at 11:30am. We will be meeting at Chris' Diner on Pamplico Hwy.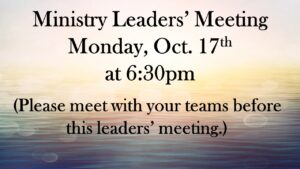 Ministry Leaders' Meeting
There will be a Ministry Leaders' Meeting on Oct. 17th at 6:30pm. This meeting is for leaders of teams that place events on our church calendar. Please let us know if you are attending or not. Light snacks will be provided.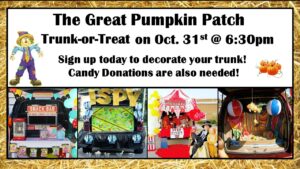 The Great Pumpkin Patch
We will be hosting The Great Pumpkin Patch in our back field on Monday, Oct. 31st at 6:30pm. We will have food, a couple of inflatables to have fun on, and a huge trunk or treat! We are looking for people who are willing to sign up to decorate their trunks with games. (It doesn't have to be super elaborate.) We'd like to have at least 50 cars. We would also like to ask for volunteers to donate candy. Please sign up at the Connection Board if you'd like to be a part of The Great Pumpkin Patch!
SFBC's Fall Vendor Show
We invite you to come shop at our SFBC's Fall Vendor Show on Saturday, Nov. 5th from 10am-4pm. There will be many vendors with lots of great items available for purchase. Proceeds from table rentals and admission costs go toward our Student Ministry. If you would like to host a table, please see Mrs. Troi Gasque.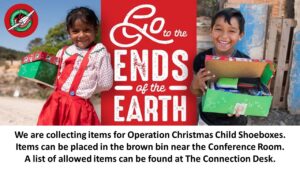 Operation Christmas Child
November will be here before we know it! Our WMU ladies are collecting items for Operation Christmas Child Shoeboxes in the brown bin down our main hallway (the one next to the Conference Room). If you'd like to participate, just bring items such as those listed below.
A complete list of allowed items can be found on our Connection Board or at samaritanspurse.org/occ.
Personal Care Items (hairbrush, comb, toothbrush, washcloth, nail clippers, cups, bowls, flashlights, etc)
A "Wow" Item (doll, soccer ball, small stuffed animals, outfit, harmonica, recorder, backpack, toys, balls, toy cars, etc.)
Clothing & Accessories (shirts, underwear, socks, shoes, hat, sunglasses, tote bag, bead jewelry, hair accessories, etc.)
Crafts & Activities (puzzles, compass, fishing kit, magnets, kaleidoscope, marbles, etc.)
School Supplies (pencils, erasers, sharpeners, crayons, ruler, pens, safety scissors, notebooks, etc.)