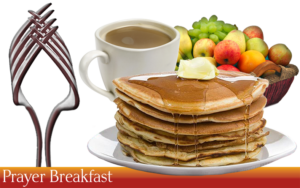 Wednesday Prayer Breakfast
We are excited to be having our Wednesday Prayer Breakfast Meetings. You can meet us at Bazen's Restaurant at 7am. If you are planning to eat, please arrive a few minutes earlier to order your breakfast.
There are over 7,600,000,000 people on this planet.
There are over 328,000,000 people in America.
There are over 5,000,000 people in South Carolina.
We can reach our friends, family, and neighbors for Christ by starting with just ONE.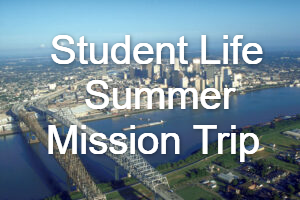 Student Mission Trip
Students in the 7th through 12th grades are invited to take part in our Summer Mission Trip to Louisiana. We'll be serving in New Orleans from July 24th-31st. If you'd like to attend, please speak with Pastor Ryan.
Our monthly Women on Mission Meeting will be held on August 10th at 6:30pm. All ladies are welcome!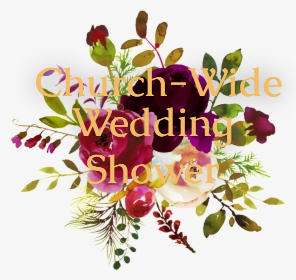 Church-Wide Wedding Shower
We'll have a church-wide Wedding Shower for Taylor Barefoot & Gary Williams, Jr. on Sunday, Aug. 15th at 4pm. The happy couple is registered at Target and on Amazon.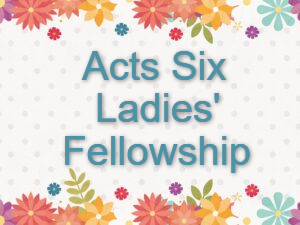 Acts Six Ladies' Fellowship
Acts Six ladies are invited to our August Fellowship. We'll meet in the Fellowship Hall on Monday, August 16th. We'll have a devotion, craft, and snacks. Please sign up or let Stephanie know if you are planning to attend.
Operation Christmas Child Shoebox Item Lists
We collect items for O.C.C. shoeboxes each year as a church-wide mission project. We have posted a list of allowed items for O.C.C. shoeboxes. Please see the Connection Board. If you'd like to donate items, please place them in the brown bin located in the hallway near the Conference Room.
Ladies' Bible Study
Ladies are invited to attend Take Courage– A Study of Haggai by Jennifer Rothschild. This is a 7 Week Bible study on Haggai. Learn to walk confidently in your calling, stay motivated despite opposition, and courageously invest your life in God's purposes, trusting Him for results you may never see in this lifetime. We will meet each Sunday at 5pm beginning August 22nd. The book cost is $17.00 which is due by Aug. 15th. Please sign up if you plan to attend and need a book.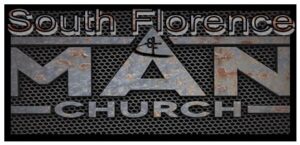 Man Church
Men are invited to sign up to attend Man Church on Monday,
Aug. 23rd. Doors open at 6:15pm with manly games like target shooting, archery, cornhole, and golf at 6:30pm. Man Worship begins at 7:15pm with singing, testimonies, and preaching. A Manly Meal or steak, potatoes, and green beans will be served at 7:45pm. The cost is $10 per member, with guests of members getting in free. Sign up on the Connection Board or click the link below.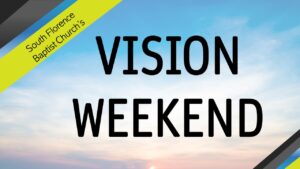 SFBC's Vision Weekend
Mark your calendars! Vision Weekend will be a time of renewed focus on connecting with God, growing in Christ, serving in His church, sharing Christ with others, and pursuing God's vision in the church.
We will have a Leadership Renewal Conference here at SFBC on Saturday, August 28th from 9:30am-8:00pm. Guest speakers will be leading breakout sessions and worship will be lead by Rev. Josh Sanders. A sign up sheet has been posted on our Connection Board. Lunch and dinner will be served for those attending.
August 29th is Vision Sunday with Meet Your Deacon that evening at 6pm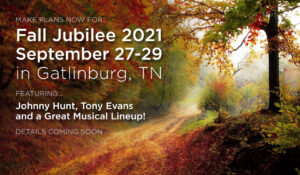 Fall Jubilee
Mark your calendars! The Gatlinburg Fall Jubilee will be held Sept. 27th-30th. Speakers will include Johnny Hunt and Tony Evans. A sign-up sheet has been posted for those who want to attend. The conference is $109. You will also have a hotel room charge which is broken down below. Please see Mrs. Juanita Purvis with any questions or if you are interested in attending.
Hotel Room Costs: 3 nights (Check out on Sept. 30th)
1 Person Per Room : $405.00
2 People Per Room : $202.50
3 People Per Room : $135.00
4 People Per Room : $101.25
(Please remember to add the $109 Conference Cost)
Life Groups
What are Life Groups? Life Groups are one way that we can "do life together". We'd love to build relationships with you through Bible study, meals, shared experiences, conversations, serving others together, and being there for each other when a need arises.