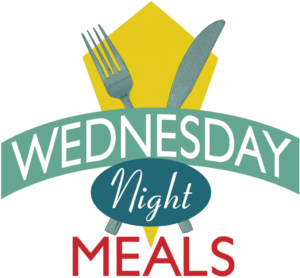 Wednesday Night Supper
Please see the Connection Board for a menu of the next several weeks' dinners. Supper is served from 5:30-6:30pm. The cost is $5 per person with a $20 per family maximum. Please sign up on the Connection Board if your family will be eating. Signing up helps us make sure we have plenty of food available.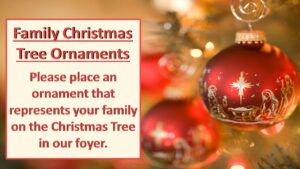 Family Christmas Ornaments
We would like to have a "Family Christmas Tree" in our foyer this year. Each family that would like to participate is asked to bring an ornament that represents your family.
There are over 7,600,000,000 people on this planet.
There are over 328,000,000 people in America.
There are over 5,000,000 people in South Carolina.
We can reach our friends, family, and neighbors for Christ by starting with just ONE.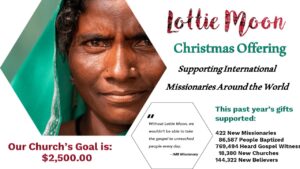 Lottie Moon Christmas Offering
We are taking up our Annual Lottie Moon Christmas Offering from now through Dec. 28th. Through this offering, Southern Baptists have given over $5 billion to international missions. In 2020 there were 422 new missionaries, 18,380 new churches, 86,587 people baptized, 144,322 new believers, and over 769,494 people heard the Gospel!
Our monthly Women on Mission Meeting will be held on December 14th at 6:30pm. All ladies are welcome!
College & Career Christmas Gathering
Our College & Career Life Journey class members are invited to the home of Travis & Krista Martin on Dec. 14th at 7pm. We plan to decorate gingerbread houses during our Christmas gathering.
SideKicks' Christmas Dinner
SideKicks are invited to sign up for a Christmas Dinner being held on Dec. 17th at 6pm. We will be serving salad, baked potatoes, either steak or grilled chicken breast, and dessert. We will also be doing a Chinese Christmas exchange. Each male and female who would like to participate can bring a wrapped gift of $10-$15. You must sign up if you are eating, by Dec. 5th.
Caroling, Soup & Santa
We'll have Soup & Santa on Dec. 19th after we come back from church-wide Christmas caroling. Caroling is scheduled to begin at 4:30pm. Please see Troi Gasque if you would like to help by providing soup.
Christmas Mission Project for Five Sparrows
For our Christmas Mission Project for the Five Sparrows House, we are planning to take up a Love Offering on Sunday, Dec. 19th. This Love Offering will be used to purchase gifts for the ladies staying there. We will also be providing them with a dinner at their home on Monday, Dec. 20th. Please see the sign-up sheet on our Connection Board if you would like to help by providing a dish for this dinner.
Christmas Eve Candlelight Service
Invite your friends and family to our Christmas Eve Candlelight Service being held on Dec. 24th at 5pm.
Life Groups
What are Life Groups? Life Groups are one way that we can "do life together". We'd love to build relationships with you through Bible study, meals, shared experiences, conversations, serving others together, and being there for each other when a need arises.