Ladies Life Group
Ladies of all ages are invited to join us in the Sanctuary for "Living By Faith." We will study about six women in the Bible who faced unique challenges and how their actions clearly illustrate what it means to live by faith.
Men's Life Group
Men are invited to join us in the Fellowship Hall for "Stand Strong." With God on our side, we can stand strong against the trials and tribulations of life. Come learn about the promises that are directly from the heart of God to encourage us.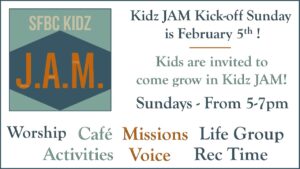 Kidz JAM
Children in 3K – 5th grade are invited to join us this evening for Kids JAM! We'll be meeting each Sunday from 5-7pm. Our official Kidz JAM kickoff will be next Sunday at 5pm! We'll have games, activities, food, and a HUGE inflatable obstacle course! Kids have been attending JAM for the last few weeks and are having lots of fun exploring missions and learning about the Gospel. At the kickoff, kids will get their JAM t-shirts. We may even have a few extra prizes in store for our regular kids and first time visitors! Bring your kids – ready for a fun-filled night!
Wednesdays: Family Worship @ 6:30pm
Sundays: Kidz Journey @ 8:45am
Kidz Worship @ 10am
Kidz JAM from 5-7pm
Ladies' Tea Fellowship
Ladies of all ages are invited to join us for a Ladies' Tea on Saturday, Feb. 4th from 11am-1pm. Whatever we do, should be done for the glory of God, not for our own good, but for the good of many. We'll enjoy a morning of worship through song, fellowship, food and fun! Bring a mother, daughter, sister, and/or friend. We are asking that you sign up at the Connection Board if you plan to attend. (This is just to help us with food preparation.)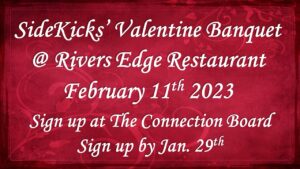 SideKicks' Valentine's Banquet
SideKicks are invited to spend an afternoon together, dining at Rivers Edge Restaurant in Cheraw on Feb. 11th. We'll load the bus at 11:15 and pull out at 11:30am. The restaurant will open that day just for us. The deadline to sign up is Jan. 29th. Please sign up at the Connection Board if you plan to eat with us. Sign one person's name on each line, along with the meat you will be ordering. The choices are ribs, steaks, Boston butt, or ordering from their dinner menu.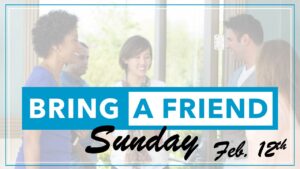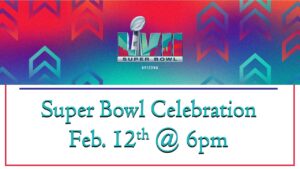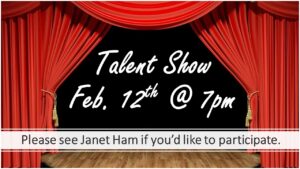 Friend Day, Super Bowl Celebration & Talent Show
Friend Day will be on Sunday, Feb. 12th. Invite your family and friends to come with you! We'll have refreshments in the foyer before Life Journey. Come back that evening for our annual Super Bowl Celebration & Talent Show! The meal will begin at 6pm. The Super Bowl will be shown in the Fellowship Hall and our Talent Show will begin at 7pm in the Sanctuary. Sign up sheets have been posted for those who plan to eat. If you would like to participate in the Talent Show, please sign up and/or speak with Mrs. Janet Ham.
Church-Wide Valentine's Celebration
You're invited to spend Valentine's evening with us at a church-wide celebration of love and friendship. The menu is grilled chicken, marinated pork tenderloin, oven roasted potatoes, fried squash, Greek salad, and tea. The cost is $10 per person. The dress is – dressy casual. Childcare will be available for those who need it. Please sign up on our connection board to reserve your seat. Also, please note if you will be needing childcare and how many children you will be bringing.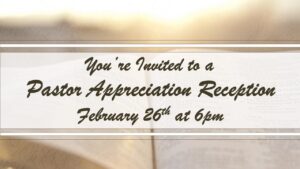 Pastor Appreciation Reception
2022 brought lots of festivities and events but we as a church body did not celebrate Pastor Appreciation last year. We love our Senior Pastor and his family as well as our Family Pastor and his wife and we want to show them our appreciation for all the hard work and dedication they have given us through 2022. Please join us in celebration of our wonderful pastors on Feb. 26th at 6pm immediately following evening worship. There is a sign-up sheet at the Connection Desk and we encourage you to sign up for this event. Please provide a finger-food for all to enjoy. We will take up a Love Offering for our pastors throughout the month of February to show our appreciation for their service. We are excited to honor our pastors and show them how much we love them!